Who and What is Spoke'n Revolutions Youth Cycling?
It all started in the fall of 2009 with the idea of having youth cycle from Maine to Florida. People thought we were crazy. I thought it was crazy! So, in order to prove we weren't we needed a pilot. That's when we enticed 7 high school students to ride 60 miles around the town of Edenton, NC during CycleNC's Spring Ride. To our delight, they loved it. Their only concern, "Why were all those old people able to pass us?" Out of that pilot Spoke'n Revolutions Youth Cycling was born.
Spoke'n Revolutions Youth Cycling is a program of Triangle Bikeworks, a Chapel Hill, NC-based non-profit that introduces youth from under-served households to cross country cycling, history and service. Their first cross country tour was traveling the Underground Railroad from Mobile, AL to Buffalo, NY. Winding their way through Tennessee, Kentucky, Ohio and Pennsylvania before the final ride on the bike trails of Buffalo, NY and taking in the sights at Niagara Falls. The days were hot in the beginning, as you could imagine. There was no lack of emphasis on hydration and establishing better eating habits. One youth stowed away Little Debbie snack cakes as a food source.
It was toward the middle of the tour that we began to realize that it was more than just a bike ride; so much more. We were able to witness a metamorphosis in the youth. Don't get me wrong, they were still teens, but there were subtle changes in them. Subtleties like eating a salad at dinner (yes, that small). To a boost of honest pride from learning the seldom taught history of Brices Crossroads where Negro soldiers successfully defended Union troops as they escaped the onslaught of an overwhelming Confederate army led by Major General Nathan Bedford Forrest on the very ground the act was performed. They were shown the rise on the horizon that the Federal Army saw as they crested the hills. They were shown the foxholes where the Colored Troops lay and defended the retreating army.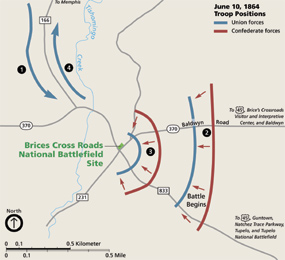 At the Battle of Brices Cross Roads, half of the 223 Union soldiers that were reported as killed belonged to Bouton's Brigade of United States Colored Troops. Most served in the 55th and 59th USCT.
The youth are also proud of the fact that they are able to travel by their own means across great distances, learn interesting things about history, and meet new people in different communities.
So, we're this crazy nonprofit that decided to break down the "cost of cycling barriers" and give opportunities to youth that others pay thousands for. One could say the reason the price is so high is because the experiences obtained are live evolving. Transformative.
At Triangle Bikeworks we have this wild belief that all youth should have the opportunity to develop physically, socially, and academically to their full potential, regardless of their background, resources, and socioeconomic standing. Our mission has always been to use the bicycle as an entry point that engages under-served youth in the community. We put them in outdoor activities through programs and events focused on a growth mindset that will provide them opportunities to discover their true potential.
A single goal: To transform lives, One revolution at a time.